How To Find Affordable Home Furnishings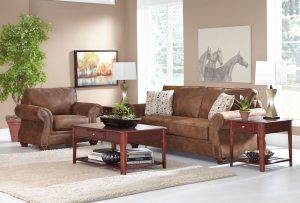 Affordable Home Furnishings: Where they are, and how you can find them
Searching for affordable home furnishings can be one of the most difficult parts of moving. Luckily, this doesn't have to be the case! There are plenty of ways to find beautiful furnishings without breaking the bank. Here we'll be outlining some of our favorite ways to find cheap home furnishings. Whether you rummage through a thrift store, check out your neighborhood garage sales, or lease, we can help find the best option for you!
Thrift Stores
This is a classic way many homeowners find affordable solutions to their home furnishing needs. Buying repurposed furniture can be a great way to save money and help your local community. The downside to shopping in thrift stores, however, is the lack of variety. Thrift stores may offer affordability, but they can't always offer specific styles, wants, or needs that you might have in mind.
Local Garage Sales
Neighborhood yard sales are always a great way to pick up inexpensive furnishings for your home. Not only are items priced to sell, but it's a great way to support (and meet) your neighbors! Just a quick drive around the neighborhood on a Saturday can lead to a new treasure for the home. Along with thrift stores, you may find that the contents of a garage sale can be limited to only unwanted items and furnishings. Especially when it comes to furniture, this can raise questions as to the quality, and condition of what's for sale.
Leasing 
Leasing your furnishings can not only be affordable but can also allow you to retain freedom of choice to match your styles and tastes. Choosing to lease your furniture has a host of benefits that can help give you the most flexibility and least hassle, at a low cost. When choosing furnishings, most leasing companies will have a selection of furniture packages that match a wide range of current styles and tastes. At Southern Furniture Leasing, we even have options for leasing cookware and electronics!
More Information
We specialize in affordable home furnishings. If you would like more information on what it takes to get started on a lease, you can contact us Here anytime. To also view our selection of furniture packages, Click Here and see just how many options there are to suit your needs!