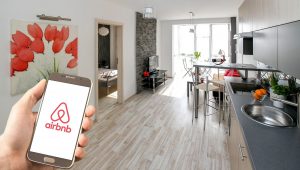 Searching for the perfect Airbnb rental furniture? Since the company's start in 2008, Airbnb has become a wildly popular addition to the world of vacation and short term rental properties. With the ability to reach an audience of over 150 million users, the app has allowed homeowners across the nation to dive into the world of furnishing a rental property for profit.
Many of these first-time rental owners are now discovering that achieving a beautiful rental while saving money is easier said than done. Here we will be breaking down just a few of the many ways Airbnb hosts can find the perfect vacation rental furniture.
What is Airbnb?
Airbnb, which stands for air bed and breakfast, began as a website connecting homeowners with extra living space to customers looking for a place to stay. Now primarily used as an app, the company caters to an incredibly wide variety of rental property owners and renters. The company has grown steadily with worldwide success leading to a current valuation of over 38 billion dollars and boasts over two million users staying in hosts properties per night.
Why Is Airbnb Furniture Important?
Much like many of the popular apps in circulation today, hosts are ranked and promoted based on their reviews. Any positive reviews a host receives can drastically impact the rate at which a property is rented, increasing the profit for the property owner.
Many hosts just starting out might stay away from paying for quality pieces of furniture. The fear of regular wear and tear expected from a rental is typically part of this. Going cheap can in fact lower the perceived value of a listing and can negatively impact the experience of renters. Cutting corners can lead to a quick drop off in profits if hosts are not careful.
Where Can I Buy Airbnb furniture?
Many furniture companies offer the proper furnishings needed for Airbnb stays. Stores like Ashley Furniture offer a variety of different styles and price ranges for you to choose from. This option may be risky for beginners without experience in interior design, as buying can be expensive and require proper planning.
Where Can I Rent Airbnb Furniture?
There are a few companies that rent furniture in the U.S, and Southern Furniture Leasing is one of them! Renting gives you freedom of choice through furniture packages and flexibility to find leasing terms that fit your schedule. The packages give you the opportunity to decorate your Airbnb without needing to have experience in interior design. Our programs even include electronics and kitchenware, meaning you will not even need to purchase your own household hardware.
Getting the Best Furniture for Your Airbnb
Finding the perfect furniture for your Airbnb can be an important step in becoming a successful and profitable host. Choosing between buying and renting can change your costs in a big way, so make sure to break down all your expenses before making a decision. Regardless of the direction you take, always work with a furniture retailer that has both experience and a track record of quality.
For more information on getting started renting or leasing your own Airbnb rental furniture, Click Here to browse our wide selection of furniture packages. Feel free to Contact Us anytime if you have any questions about finding the perfect furniture rental for Airbnb hosts.