How To Find The Best Rental Furniture For Your Home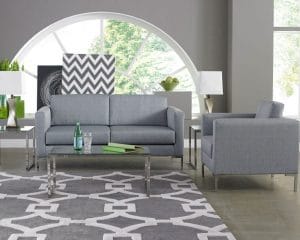 Moving into a new place can come with a lot of stress. This can especially be true if you are a first-time homebuyer! Let's say you've made the decision to rent furniture for your home. Now what? At Southern Furniture Leasing, our 40+ years of experience in the furniture rental business has made us experts on what to focus on when getting the best rental furniture!
Personal Style
When choosing furniture for your home, make sure to have a clear idea of the style that you like. This may seem obvious, but without a background in interior design the task can stack up against you quickly! This is an example of why renting your furniture can have huge benefits. Pre-packaged furniture sets can allow you to pick a design that not only fits your style but fits together.  Choosing individual pieces of furniture that all match the same style can be more difficult than it seems.
Price
Choosing the best rental furniture not only means it should look great, but also should be offered at a great price. Important components to pay attention to in your furniture lease will be:
Lease Term
Monthly Payments
Up-Front Deposits
Payments for each of these portions of your lease can differ depending on the company you are using. Be sure to read your agreement carefully and work with someone you trust.
Quality Guarantees
Many furniture rental companies are not known to be very customer friendly. These companies typically offer little customer support and limited guarantees for quality. Be sure to rent your furniture from a company that clearly stated guarantees for return and satisfaction to save yourself from a headache down the road. Our leases, for example, always come with a satisfaction return policy upon delivery. This makes it so that you can do the least while receiving the most!
More Information
For more information on how to find the best rental furniture for your home, you can Contact Us anytime, or Click Here to browse our selection of packages and get started renting!